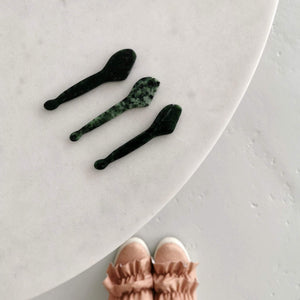 Facial massage stone wand - serpentine
A hand-made stone wand for precise facial massage. It can be used in reflexology. 
How can a massage wand be used?
- massage of the eye area (it is enough to apply the stone and press gently)
- reflexology
- for a massage to improve lymphatic drainage
- applying face creams, combining it with a facial massage.
How to use?
Gently glide on the skin using a face cream or facial oil. Remember not to press too hard or pull the skin, especially around the eyes. To reduce puffiness under the eyes, simply place a cool stone (can be kept in the fridge) under your eyes. Massage the remaining parts of the face from the centre of the face outwards. Facial massage does not require pressure.
How often?
Use this stone as a part of your daily skin routine.
In the morning, perform a quick massage under the eyes by pressing it or applying a cold stone like a cotton pad under the eyes.
In the evening, massage the entire face. Remember the neck as well 
Care: After each use, wash the stone with water with mild soap. Store in the original bag that the stone comes with.
Material: 100% serpentine (noble serpentine). The product is made by hand by a jeweller from natural stone, so each wand is unique and may slightly vary in size or colour. We guarantee the originality and purity of the raw material.
---
We Also Recommend
---