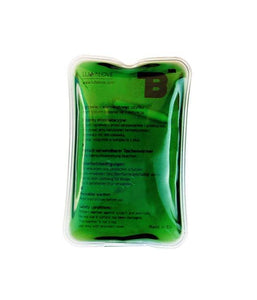 Additional Supertoy Mr B heating pad
An additional heating pad / warmer pouch for our Mr B Supertoy filled with baby safe sodium acetate. 
The secret of SuperToy Mr B is inside his belly in the form of a reusable heating pad, which can reach a maximum temperature of 54 degrees Celsius, so used with our Mr B Supertoy it is safe and will not cause burns. The warmth will help your baby feel safe, calm and comfortable.

How to use the heating pad:

Always use together with our Mr B Supertoy - make sure the pad is inserted and secured inside the Mr B's pocket. Never give the heating pad to a baby. If Mr B Supertoy is only used as a toy, always remove the heating pad.
To activate the warmer, bend the stick (activator) placed inside the warmer (do not break it). Repeat a few times until the gel starts to crystallise. The warmer becomes hot after a few minutes, reaching a maximum temperature of 54°C. The activated warmer must be placed inside the secured Mr B pocket on its belly before use.
To prepare the pouch for the next use, remove it from the toy and place ONLY the warmer pouch in a pan of boiling water and boil for about 6 minutes, until all the salt crystals are dissolved. Remove the warmer from the pan using a spoon, do not touch the warmer. Place the warmer pouch on a clean cloth or in cold water to let it cool down. The pouch can then be stored for next use.
Always place the hot pouch out of reach of children. Pay attention when handling the boiling water and heated pouch, always keep baby at a safe distance to prevent accidents.

Important:
None of the parts are suitable to use in microwave, oven or dishwasher.
Protect the warmer from scratching or perforating. Do not use the warmer after it is no longer hermetically sealed.
Do not put the activated warmer directly on baby's skin. Use only with the Mr B toy with the warmer always secured in the toys dedicated pocket.
The warmer itself is not a toy, do not allow your baby to play with it. Remember to always remove the warmer from the toy after use. Only when the warmer is removed, the Mr B cover can then be used as a cuddly toy.
The cause of the baby colic is generally unknown. Warmth and massage reduce spasm of the smooth muscles. The maximum temperature reached by the warmer is 54°C.
---
We Also Recommend
---