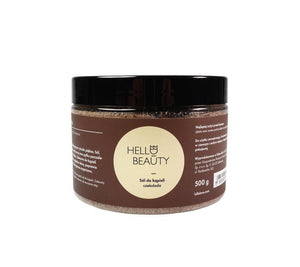 Bath salts with bee pollen - chocolate
Indulgent bath salts with an irresistible scent of milk chocolate combining the nourishing power of bee pollen, cleansing effect of salts and sweetness of cocoa.
Our iodine-bromine salts are rich in magnesium, calcium, iodine, bromine and iron.
Bath salts are the perfect addition to a bath when you need to have a relaxing moment for yourself. 
How to use:
Put a small handful of salt under the stream of water when filling up a bath.
Recommended time in the bath is 20 minutes.
Size: 500g
Ingredients (INCI): Sodium Chloride, Pollen, Theobroma, Cacao (Cocoa) Seed Powder, Parfum.
Only suitable for external use.
Product is not tested on animals.
---
We Also Recommend
---